Solitaire diamond jewellery is in high demand due to its traditional and timeless appeal. The simplicity of a single diamond lets its beauty and brilliance stand out without being overshadowed by additional jewels or elaborate patterns. Solitaire diamond jewellery's elegance and versatility make it appropriate for a wide range of circumstances, from everyday wear to special events. So, if you want to buy top-quality solitaire jewellery, Hazoorilal is a perfect alternative because of their skill in diamond jewellery craft.
When selecting solitaire jewellery, keep the "Four Cs" in mind to evaluate the diamond's quality: cut, colour, clarity, and carat weight. These elements influence the diamond's overall beauty and value. Additionally, you can select the metal type (such as gold or platinum) and the style of the setting to customize your solitaire diamond jewellery according to your taste and budget.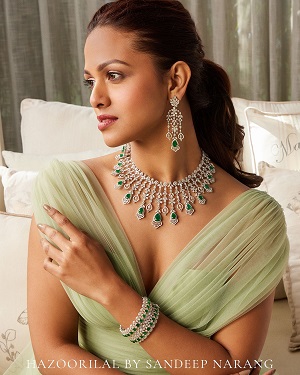 Some popular types of solitaire diamond jewellery include:
Solitaire Diamond Engagement Rings: These are perhaps the most well-known type of solitaire diamond jewellery. Engagement rings typically feature a single diamond mounted on a band, symbolizing love, commitment and the beginning of a lifelong journey together.
Solitaire Diamond Necklace: Solitaire diamond necklaces feature a single diamond pendant suspended from a chain. These necklaces can be worn on their own or layered with other necklaces for a more personalized look.
Solitaire Diamond Earrings: Solitaire diamond earrings showcase a single diamond on each ear. They can be designed as studs, drops, or hoops, offering various styles to suit different preferences.
Solitaire Diamond Bracelets: Solitaire diamond bracelets feature a single diamond as the focal point, usually set in the centre or as a charm. They can be worn alone or stacked with other bracelets to create a statement look.
Why buy solitaire jewellery online?
Well, buying jewellery can be exciting, but, at the same time, it is also a very taxing exercise. However, the same thing can be made exciting and a lot more fun. So, if you want to get the most out of your purchase, then buying solitaire jewellery online is indeed a very good option for you, as you will have access to the designs of some of the leading jewellers from the comfort of your home.
Therefore, make the most out of your purchase of those fascinating solitaire diamond necklaces, including solitaire diamond jewellery online at Hazoorilal 's online jewellery portal, for a highly satisfying purchase on your part.