Delhi is known for its high spirit, rich cultural heritage, and love for exquisite jewellery. Solitaire jewellery holds a special place among the vast collections of jewellery options available on the market in the hearts of jewellery enthusiasts. In this blog post, we will take you on a journey through solitaire jewellery in Delhi to discover its timeless beauty and importance.
Solitaire jewellery speaks for elegance and sophistication. It displays a single diamond as the centrepiece and grabs attention with its dazzling brilliance. Hazoorilal Solitaire jewellery in Delhi is famous for its single sparkling diamonds that represent luxury and class; it is a desirable choice for engagements, anniversaries, or any special occasion.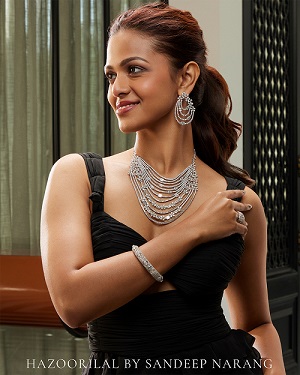 When you shop for solitaire jewellery in Delhi, consider certain factors to ensure you select the perfect piece:
Quality and Certification: Always look for certified solitaire diamonds from renowned gemological labs, such as GIA or AGS. These are the certifications that assure the authenticity and quality of the diamonds. Hazoorilal's solitaire jewellers in Delhi are trusted and established diamond jewellers with a 70-year history of creating captivating craftsmanship and exquisite designs.

Design and Setting: Explore a variety of solitaire jewellery designs and settings to find one that resonates with your personal style. Consider the metal type (such as gold, platinum, or white gold) and the overall aesthetic appeal of the piece.

Budget: Determine your budget range before beginning your solitaire jewellery shopping
Journey.

Portfolio and Style: Review the jewellers portfolio to assess their style and range of designs. Look for versatility and creativity in their work. It is essential to choose a jeweller who can translate your vision into a stunning piece of jewellery.

By following the above-mentioned guidelines, you can find a professional who understands your vision and can create a stunning piece of jewellery that reflects your personality and style. And if you are looking for the best quality solitaire jewellery in Delhi to make you look beautiful, then Hazoorilal Jewellers is the best place to buy your jewellery from.
By purchasing Hazoorilal solitaire jewellery in Delhi, you can explore different design and select your favourite solitaire jewellery that aligns with your requirements and expectations. With the right jeweller, you can transform your jewellery dreams into reality.